Wage Theft: An Insidious Problem Solved by Unionizing
Recently, during an organizing drive at Bay State Laundry in Dorchester, UFCW Local 1445 organizers found evidence that the company supplying temps was involved in wage theft; our organizers helped bring the issue to the attention of the Massachusetts Attorney General's office, which subsequently indicted the company on charges of not paying minimum wage rates or overtime and retaliation against employees who complained.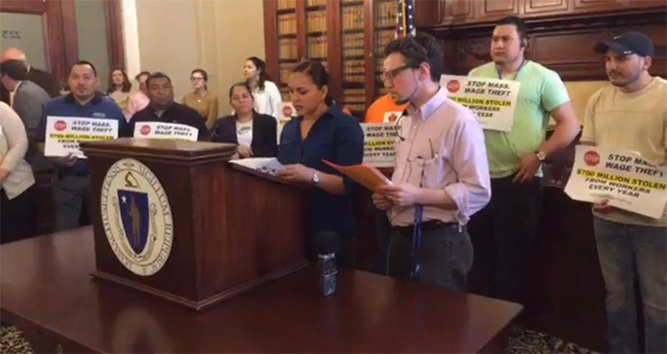 Supported by Local 1445 organizers and fellow workers, Maritza Lainez, a Bay State employee who refused to be intimidated, gave evidence during the AG's investigation.
Wage theft is defined as "…the denial of wages or employee benefits that are rightfully owed to an employee. Wage theft can be conducted through various means such as: failure to pay overtime, minimum wage violations, employee misclassification, illegal deductions in pay, working off the clock, or not being paid at all." (Wikipedia)
Wage theft occurs most often in industries that pay low-wages or use immigrant workers - those who are afraid to speak up because it will cost them their jobs. These workers are often paid less than minimum wage or not paid for working overtime. Companies can get away with this by using payroll software that makes it appear that their workers are getting paid appropriately or by paying workers under the table.
But low income workers aren't the only ones affected by wage theft; misclassifying employees as independent contractors is another way companies can get away with not paying the full wages employees have earned.
While some companies may make honest mistakes in trying to adhere to varying state-by-state labor laws, others take advantage of the confusion to purposely and illegally beef up their bottom lines.
Even workers who take employer-scofflaws to court may not succeed in recouping their losses: Too often, companies that have lost a wage theft lawsuit close their doors, making collection of damages impossible, only to reopen down the street under a new name.
There is, however, a simple solution: unionizing.
Workers who are afraid to speak up about wage theft may be afraid that trying to organize will also get them fired. That's illegal. But unlike trying to recoup wage theft losses, having a union on their side means that termination of affected employees would bring IMMEDIATE repercussions in the form of legal action by the union against the employer. And once unionized, a legally binding contract means that any attempts by the employer to underpay for hours worked, including overtime and holiday pay, would be met, again, by legal action and compensation, without the expense to the employee that a court case would involve. All it would take would be a word to a union representative and the issue would be investigated and resolved.
Employers can get away with wage theft because they know how to game the system, and they have the money and the power that individual workers do not; however, when workers join together in a union, they can level the playing field and gain the power to stand up for their rights and the wages they have earned.