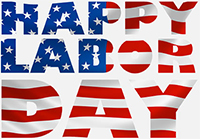 This year, Labor Day is Monday, September 3. Originally proposed as a day off for working people, in recognition of their contribution to the wealth and well-being of our country, it has since become a working holiday with no rest for weary working people!
But Labor Day does mark the beginning of Union Label Week, when union members, and all consumers, can acknowledge the importance of the labor movement and support good union jobs by making a special effort to look for union-made goods and services as they shop those Labor Day sales.
As union members ourselves, we know that union-made products and services support American communities and families and guarantee fair wages, good benefits, safe working conditions, and the respect and dignity all working people have earned through their hard work.
So make this September 3rd, and Union Label Week, and every day thereafter, YOUR personal Labor Day by helping ALL your union brothers and sisters, and especially those working at these UFCW Local 1445 stores and making these UFCW Local 1445 products:
Stop & Shop

Macy's

bfresh

Bob's Discount Furniture

Weetabix

Coca Cola

Gorton's

Pearl Packing
For more information on union-made products through the country, go to Union Label and Service Trades Department, AFL-CIO.