Register by January 12 for the FREE College Benefit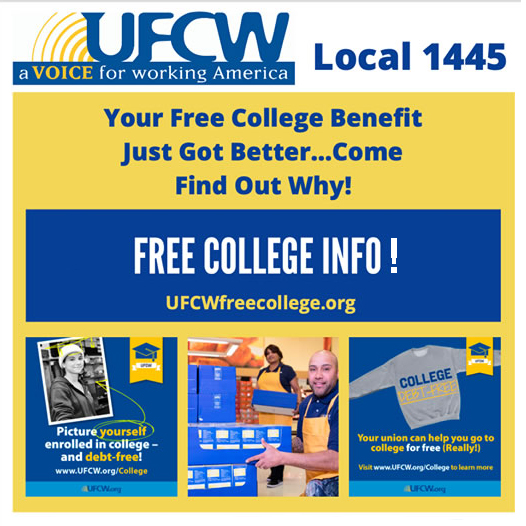 Being a member of the UFCW family means you and your family members can take advantage of the UFCW Free College benefit.
Yes, we said FREE! That means getting a college education - online from a laptop or smart device and with a flexible schedule - at no cost to you for tuition or fees.
The deadline to register for the next session is January 12. Visit www.ufcw.org/college to learn more and to enroll in classes.
This is a continuing benefit for UFCW members, so don't worry if you're seriously thinking about taking advantage of this program but haven't quite made up your mind yet. As long as you're a member of Local 1445, you have time to decide.
Future registration dates:
1/12/19 Last day for Spring 1 registration
3/16/19 Last day for Spring 2 2019 registration
5/25/19 Last day for Summer 2019 registration
8/17/19 Last day for Fall 2019 registration
The FREE COLLEGE BENEFIT - just one more of the many benefits available to UFCW Local 1445 members.